Home
Golf

Enjoy sports surrounded by a myriad of nature.
Anyone can readily enjoy sports in Shonai Town, which has a variety of sports facilities, including Cart Soleil Mogami, the largest JAF-recognized permanent racing cart course in Tohoku (1063 m).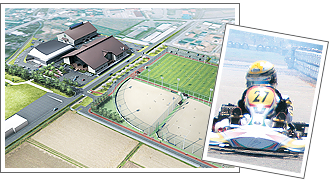 A list of tourist sites
Located on a low hill overlooking the Shonai Plain, the park boasts approximately 1,000 cherry blossoms that bloom in the spring. During the cherry blossom festival held each year in April, visitor...

This champion golf course was constructed according to Mizuno course design under the direction of the professional golfer, Seiha Chin. It is a 7070-yard, 72-par course with 18 holes. The nature o...