Home
Amarume area

History lives on in the merchant district of Amarume.
Amarume is in the northwestern part of Shonai Town. It is an energetic commercial neighborhood with many different stores. The colorful streetscape features several historic buildings, including a tourist center housed in an 80-year old rice granary called "Classe," a 190-year old soy sauce shop, and a long-established sake brewery.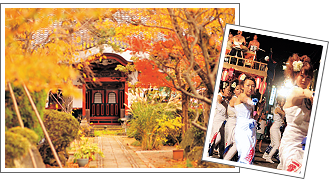 A list of tourist sites
Uniquely costumed participants dance and lively voices call out in time to original ""hiryu"" musical accompaniment based on the hiryu (flying dragon) legend passed down in the Fukagawa District of...

In the severe cold of mid January, this unusual ritual takes place at Chigawara Hachiman Shrine. Boys aged 5–14 pour buckets of cold water over their heads numerous times. Tubs of water are prepare...

This major harvest festival brings together agriculture, commerce, and industry in Shonai Town. Not only are there many events such as a commercial festival, agriculture festival, and a friendship ...

During the feudal lord procession held on the 15th, shrine parishioners dressed in traditional clothing and carrying a portable shrine parade from Amarume Train Station to Hachiman Shrine while sho...