Home
Amarume area

History lives on in the merchant district of Amarume.
Amarume is in the northwestern part of Shonai Town. It is an energetic commercial neighborhood with many different stores. The colorful streetscape features several historic buildings, including a tourist center housed in an 80-year old rice granary called "Classe," a 190-year old soy sauce shop, and a long-established sake brewery.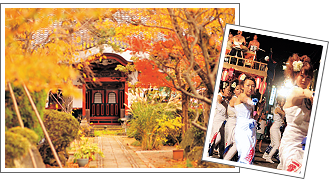 A list of tourist sites
Materials on exhibit include agricultural tools and folkcraft. The museum commemorates the achievements of Kameji Abe who created the renowned Kamenoo rice plant, which led to development of high-q...

This monument was built on the grounds of Koideshinden Hachiman Shrine to commemorate Kameji being awarded the Medal with Blue Ribbon (given to persons of merit for industry promotion, etc.) in 192...

Keigaku Taisho established the temple on land where the feudal castle stood belonging to the lord of Amarume, Abo. The temple was constructed in the Nanbokucho period. Handwritten scrolls by Monpon...

This JAF-recognized permanent racing cart course is the largest in Tohoku at 1063 m. It hosts events such as the All-Japan Championship and series races. Top racers come to test their skills. 1-per...

This sports park offers a softball field, a multipurpose square, and other areas where events of a national scale can be held. The park features a gymnasium, an indoor multipurpose sports ground, a...

The 5-course pool is heated year round to eliminate stress on the body. The pool design is gentle to the body and includes a walking course with a slope.

Very popular with families, this restaurant is one of the few in town serving authentic Chinese food. The reasonably priced dishes have ample portions to satisfy even manly appetites. Parties can o...

Features excellent homemade soba noodles.

Doors open at this ramen shop from morning on Saturdays and Sundays!